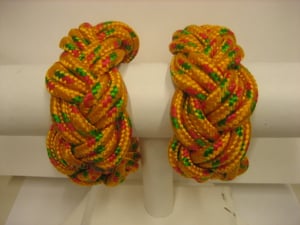 $

45.00
"I knew I had falling back into 4th grade where I would wear tokens and evidence of my friendship around my wrist." -PRINTUP
----------------------------------------------------
Made EXCLUSIVE for THE PRINTUP these ASH triple knot bracelets are ONE OF A KIND, HAND MADE and they are Limited in Editions!
Yellow, with green and orange accents these ropes are melted together at the ends to form a slip on snug fit.
ASH has promised that no two are alike, and that these can only be found here on THE PRINTUP Web Store.
Declare your friendship, the 2010 way!
(feel free to email for more photos)